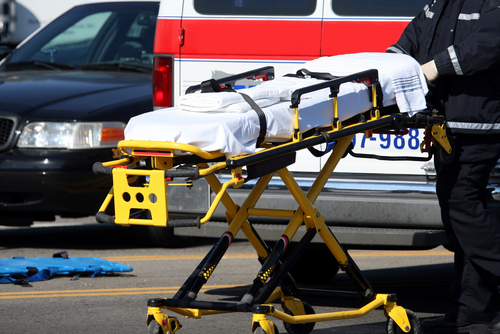 Fatal Car Accident News from Wyoming
There have been sixteen (16) fatal car accidents in Wyoming so far this year. Serious car accidents are shared by people all over the country, and Wyoming is no stranger to the heartbreak associated with severe personal injury and death resulting from automobile accidents. Our deepest sympathy goes out to those injured or killed on Wyoming Highways this year and every year. As a personal injury lawyer for 30 years in Wyoming, I have seen the suffering of those left behind up close and personally.
18-year-old killed in rural Laramie County, Wyoming. Wyatt Butler was killed on US Highway 85 around 11:30 am. Butler appeared to try and go around parked vehicles, including a tractor-trailer stopped on the road. He was unfortunately killed trying to pass the stopped trucks. Butler was not wearing a seatbelt at the time. Sgt. Jeremy Beck of the Wyoming Highway Patrol cited speed, driver inattention, and cell phone use as potential contributing factors to the fatal crash.
Another 18-year-old was killed on Wyoming roads. A few weeks ago, Wyoming teenage Karson M. Yorges died from his injuries on a Wyoming Highway. According to the Wyoming Highway Patrol, The crash occurred around milepost three on Wyoming Highway 320 near Wheatland. Yorges had been driving northbound in a Mercury Grand Marquis when he lost control on the snowy, icy highway and crossed the center line into the southbound lane and the path of a Peterbilt semi-truck.
Wyoming Law limits the time to file a lawsuit. Please call personal injury attorney Michael Shickich for a free consultation and thoroughly evaluate your case. We are always available and may be reached online or by phone at 307-266-5297(LAWS)
Common Causes of Car Accidents
There are many causes of automobile accidents, but negligence causes more serious injuries than others. If someone else causes a car accident they are often negligent and will owe you compensation for your pain and suffering, lost wages, medical bills, and more. The most common types of car accidents resulting from the carelessness or negligence of others include:
Failing to stop at a red light or stop sign

Using a cell phone while driving

Texting while driving

Driving while fatigued

Following too closely

Failure to maintain a vehicle

Trucks not following Federal Safety Rules

Distracted driving

Not following Traffic Laws

Driving while under the influence of drugs/alcohol (DUI/DWI)

Speeding

Failing to follow right-of-way rules

Defective/improperly-working car parts

Loss of control over an automobile
When filing a car accident injury claim, the first and most crucial element in determining liability for the accident. Attorney Michael has vast experience handling all types of accident claims and can help you by conducting the proper preparation and investigative work.
CAR ACCIDENT CASES WE MANAGE
We assist clients with all types of motor vehicle claims, including:
Car accidents

Trucking accidents

Bus accidents

Motorcycle accidents

Bicycle accidents

Pedestrian accidents

Commercial Vehicle Accidents

Uber/Lyft Accidents

Public Transportation Accidents

Garbage Truck Accidents

Municipal Vehicle Accidents

ATV Accidents

Snowmobile Accidents
We Never Collect a Fee Unless We Win Your Case!